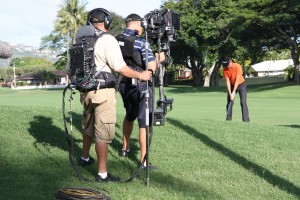 The SVG Sports Broadcasting Fund is the sports industry's first charity fund dedicated to providing assistance to industry professionals and their families in need.
Since being established in 2012 the Fund has assisted hundreds of sports production professionals who have found themselves unable to work due to injury, illness, or disaster. The Fund offers financial assistance by directly paying bills on their behalf, offering some peace of mind during stressful life events so they can focus on healing or rebuilding the lives of themselves and their families.
SPECIAL NOTE REGARDING THE CORONAVIRUS: Unfortunately the Fund is unable to assist with claims related to loss of work due to event cancellation. 
"The sports-television industry is a family of talent, creatives, techs, and crew who depend on each other in the studio and the field and now, with the SVG Sports Broadcasting Fund, at home," says Ken Aagaard, SVG Sports Broadcasting Fund chairman. "In a business underpinned by a freelance workforce, it is especially important that we develop a process for helping out our peers and their families when they are struck by serious misfortune."
The SVG Sports Broadcasting Fund is a not-for-profit, section 501(c)(3) corporation.
For more information about the SVG Sports Broadcasting Fund, contact Carrie Bowden, SVG Sports Broadcasting Fund, administrator, at [email protected] or 917-446-4412 or visit www.sportsbroadcastfund.org
Founded in 2006, the Sports Video Group (SVG) is an international association for sports-television professionals with the mission to advance the creation, production, and distribution of sports content. As producer of the Sports Broadcasting Hall of Fame and 12 other industry events, as well as numerous media properties and industry initiatives, the organization represents a membership of more than 4,000 active participants in the creation of sports content for TV, the Internet, mobile devices, and in-venue distribution.